We all know actors and actresses who have starred as many roles. Choose an actor or actress and at least two roles. Incorporate these two roles into a GIF. It's challenging, but I know you can do it!

https://assignments.ds106.us/assignments/a-gif-in-time/
For this assignment, I used two movies with Timothee Chalamet. The first was him in Beautiful Boy, and the second was from Little Women. I first tried using the Giphy website to create the gif. I found a clips from Beautiful Boy and Little Women on YouTube, but it only let me upload one video link to create into a Gif. As far as I could tell, there was not a was to combine two clips into one Gif.
I tried googling how to do this, but was only referred to websites I was worried would not work and just give me viruses, so I decided to go with another route. I still used the scene from Beautiful Boy:
I imported this into Giphy, then decided to just incorporate Timothee's character's quote from Little Women to merge the two roles into one gif:
"Why are you saying this? Say yes and let's be happy together, Jo."
I added this quote as a caption to the clip from Beautiful Boy.
Here is how the gif turned out: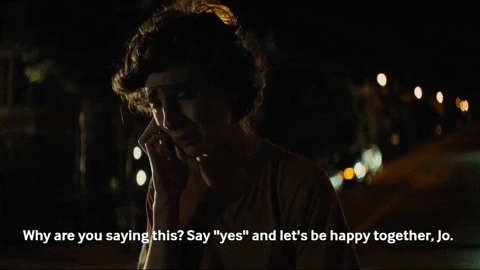 The assignment was more difficult than I thought, but I am happy with how the gif turned out – I just wish I figured out how to create a gif from two different videos!