This assignment was very entertaining. It said to make an animated .gif of "something pop-culture centric."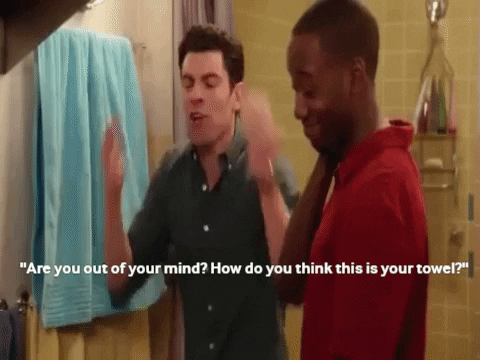 One of the most popular scenes in the tv show New Girl is 'the towel scene'. In this scene, Schmidt realizes that he and his apartment-mate, Nick, have been using the same towel.
I created this gif of the scene through the Giphy website. I had to sign up for a free trial, and I'm not sure if there is a better way, but this was the easiest way I found to create a gif. I started with a YouTube video of the full scene.
An article I read explained how to make a gif from a YouTube video using Giphy on their website, not the app. From there, it wasn't too complicated, I just had to shorten the video into the gif, and add captions.
I chose this show for this class assignment because some of the best parts of New Girl are unscripted – the actors improvise. This is a form of artistic expression, as the actors have the liberty to add what they feel is needed in the scene, just like what Bob Ross encouraged us as to do in this video I watched last week. He told us to simply do what we feel is needed, and trust in our own instincts.